Spinal stenosis is one common condition I assess and treat in my practice.
What is Spinal Stenosis
Spinal stenosis is narrowing of the spinal canal at the lumbar spine or cervical spine. It could happen due to extra bone growth in spine, tumour, disc herniation or thickened ligament of spine.
Despite its prevalence, currently, there is no universally accepted definition of lumbar spinal stenosis, and there is also a lack of generally accepted radiologic diagnostic criteria. Lumbar spinal stenosis is a significant cause of disability in the elderly, and it is the most significant cause of spinal surgery in patients over 65 years of age.

Clinically it is very easy to diagnose typical presentation of spinal stenosis: Patients usually complain of low back pain which may or may not radiate down to their legs with increased pain with prolonged standing or walking and feels better as soon as they sit down or go into a slump position.
You can diagnose spinal stenosis at home with an easy bicycle test.
Patient starts riding the bicycle in upright position, once it produces pain or increased pain the patient goes into a slump position shown in photo below. As soon as the patient goes in slump position, pain reduces or disappears.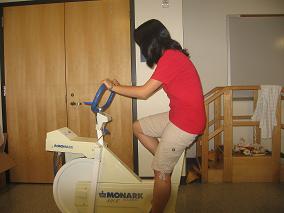 Other diagnostic methods are: X-ray, CT scan, MRI.
Signs and symptoms
Pain in neck or low back
  Numbness
Tingling or pins-needles
Radiating pain down to legs or arm
Weakness of arms or legs
Rarely it could cause permanent damage to the spine – which could cause paralysis, balance problems and incontinence.
How to treat spinal stenosis